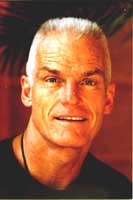 Lama Ole Nydahl is one of the very few Westerners who is fully qualified as a Lama and meditation teacher in the Karma Kagyu Buddhist tradition. In December 1969 he and his wife Hannah became the first western students of The 16th Gyalwa Karmapa, Rangjung Rigpai Dorje, one of the greatest yogis of this century. At the request of the 16th Karmapa in 1972, after completing 3 years of intensive meditation under his direct guidance, Lama Ole started teaching Buddhism in Europe. He has transmitted the blessing of the lineage ever since, traveling as an authorized Lama and tirelessly teaching around the world in a different city nearly every day. To date, Lama Ole and Hannah have established over 300 Buddhist Centers world-wide, which represents the largest body of students practicing diamond Way meditation. There are currently 17 centers in the U.S.
Hannah travels part of the time with Lama Ole and spends the rest of her time translation for the highest Rinpoches in the lineage. Lama Ole also travels with Caty Hartung from Germany, who has been instrumental in the organization and development of the Diamond Way Centers in Europe.
Lama Ole holds the transmission for a unique Diamond Way practice called Phowa, in which one learns to transfer one's consciousness at the moment of death to a state of highest bliss. Since 1987, he has taught this practice to over 50,000 people around the globe.
Lama Ole Nydahl has given numerous print, television and radio interviews, and is the author of six books translated into many languages: Entering the Diamond Way (1985); Ngondro (1990); Mahamudra (1990); Riding the Tiger (1992); The Nature of Mind (1993); The Way Things Are (1996). Publisher, Blue Dolphin Press, Inc.
Lama Ole brings the essence of Tibetan Buddhism without all the cultural trappings to independent western minds and encourages his students to recognize that joy, fearlessness, and active compassion are the most important qualities in today's times.
"My recipe is simple: tell people the necessity of finding something which can carry them through sickness, aging and death, and don't be afraid to give them a glimpse of the joy of life. Tell people that the mind is like space: open, clear and limitless, and talk about both way and the goal." Lama Ole Nydahl"
Click here for more information on Hannah and her activity around the world.
Click here for the Official Website for Lama Ole.


Click here to read some of Lama Ole's Teachings


Check Lama Ole's Travel Plan for upcoming retreats and lectures around the globe.